2009
11.15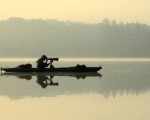 John M Fleming Nature/Wildlife Photographer
John M Fleming began a photographer's journey that included many travels with his family to the Upper Peninsula of Michigan and the Western United States. This childhood hobby exploded over time into a full-blown passion creating a firm foundation for his second career. His photographic travels have included sections of the United States and Canada, concentrating on State and National Parks, Wildlife Refuges, Wilderness Areas and Provincial Parks. His Journeys led him to the Rocky Mountains of the west, the boreal and hardwood forest of the north, the red rock county of the southwest, the mangrove swamps and estuaries of the south and countless unique wilderness habitats in between. Much has changed since John's early days with a camera, and much remains the same. John's love of nature and wildlife continue to be the central theme of his work. He has evolved from film to digital, and now shoots with Nikon equipment and does all his own printing. While the medium is digital, he strives for purity in the images he shoots.
Living in the small Lakeshore town of Douglas, Michigan this tranquil setting inspires and motivates John both personally and professionally. In 2004 Fleming retired (early) from his corporate finance position to pursue his dream of fine art nature photography full time. Many innate and cultivated skills continue to bring him success: perfectionism, patience, intuition and a deep commitment to explore creation and share his journey with others.
His work has appeared in several publications including Birder's World, Michigan Natural Resources, Michigan Audubon Society's The Jack-Pine Warbler and Wyoming Wildlife. John's work can be viewed and purchased on his website or viewed at the following locations: Saugatuck Artists Collective, 241 Culver Street, the Kalamazoo Center for the Healing Arts and Saugatuck Center for the Arts. It is our hope that this visual journey you are about to embark on while exploring Fleming's electronic portfolio of nature and wildlife photography will stimulate your senses and inspire your respect for nature. Enjoy.
Average Rating:
4.4
out of
5
based on
240
user reviews.